Downtown Dallas Lofts for Lease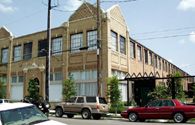 Goodyear & Goodrich Lofts
Both of these buildings at 3809 Parry Avenue and 4140 Commerce were built in the 1920's, their exteriors have been restored to the way they looked then. But step inside and you will discover pearls undreamed of in the 1920's.

Indoor Amenities
Amenities include hardwood and concrete floors, large loft windows, downtown views, high ceilings, kitchens with dishwashers, disposals, frost-free refrigerators with ice makers and microwaves. These properties are also equiped with Category 5 telephone lines for the most sophisticated Internet connections.

Outdoor Amenities
The landscaped courtyard includes a solar heated spa and pool. Tenants enjoy gated inside parking and a rooftop deck. Please see our Lofts for Lease page for availability.
About the Gibson Company:
The Gibson Company has been in business since 1986 and was one of the first to convert warehouses in the downtown area into loft apartments. We've been here for more than twenty years, quietly preserving the tradition of the past and installing the comfort of the future.
The area is zoned for residential/commercial use. Many small businesses find the area excellent for their work environment. Numerous photographers, artists, and business professionals live and work in our loft studios.
We have a full-time maintenance staff that will respond quickly to tenant requests, and we pride ourselves in providing personalized service to our tenants. We will receive tenant UPS and FedEx deliveries and hold at the management office for pickup by tenants at their convenience.
For more information, please call:
214.821.3411